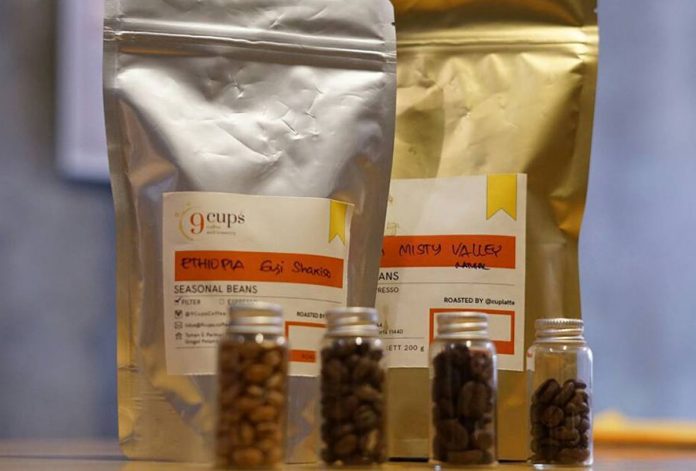 "..kopi terenak adalah kopi yang diminum dalam kondisi santai dan rileks," ungkap Lydia Japar Halim selaku roaster di 9 Cups Coffee and Roastery. Lydia Japar Halim sendiri adalah seorang Q Grader dengan berbagai penghargaan.
Bagi sebagian orang, kopi merupakan pembangun mood untuk mengawali hari, sebelum mulai beraktivitas. Namun, tak jarang kopi dinikmati untuk bersantai sekaligus melepas penat. Bila Anda salah satu yang menikmati kopi untuk bersantai, Anda wajib mengunjungi 9 Cups Coffee and Roastery yang berlokasi di Taman S Parman, Grogol.
Homey, merupakan satu kata yang digambarkan oleh 9 Cups Coffee and Roastery untuk para pelanggannya. Suasana yang santai dan akrab, diciptakan agar pelanggan merasa seperti berada di lingkungannya sendiri. Ruangannya terdiri dari dua tingkat, dengan bagian bar yang didesain seperti di dapur rumahan yang berisikan berbagai perlengkapan menikmati kopi.
Kopi yang diracik oleh 9 Cups Coffee and Roastery merupakan kopi yang diperlakukan dengan sepenuh hati, di mana setiap biji kopi yang akan dipanggang atau di-roasting, terlebih dulu diseleksi dengan baik agar menghasilkan cita rasa kopi yang optimal.
9 Cups Coffee and Roastery merekomendasikan kopi-kopi lokal Indonesia yang beragam, mulai dari Barat hingga Timur. Signature beans di sini adalah Sunda Aromanis, Tolu Batak, Peaberry Samosir, Bali Kintamani, dan Koerintji Barokah. 9 Cups Coffee and Roastery berkomitmen untuk menghadirkan kualitas hasil roasting biji kopi speciality yang konsisten, serta terus meningkatkan kualitas roasting dari biji kopi specialty dari tahun ke tahun.
Nikmati kopi yang disajikan oleh 9 Cups Coffee and Roastery dengan ditemani aneka menu toast ataupun pasta yang menjadi pasangan pas ketika ngopi. Anda juga bisa membeli beragam biji kopi dari Indonesia yang diroasting khusus oleh 9 Cups Coffee and Roastery.
9 Cups Coffee and Roastery
Taman S Parman A4. Grogol, Jakarta
Jam buka : Minggu – Jumat 09.00 – 21.00
Instagram : @9cupscoffee